She is an Academic Member of the Behavioral Finance Forum,
a Fellow at the Applied Statistics Center at Columbia University,
an Oversight Board Member at the ING Institute for Retirement Research,
and an Institute Fellow at TIAA-CREF.
She was a fellow at the Institute for Advanced Study and has received grants from such institutions as The Jerome A. Chazen Institute of International Business, Citigroup Behavioral Sciences Research Council, the National Institute of Mental Health, and the National Science Foundation.
She has taught courses in Management, specifically in Globalization, Leadership, Entrepreneurial Creativity, and Decision Making at Columbia Business School and at the World Economics Forum in Geneva, Switzerland.
She graduated from the University of Pennsylvania with a B.S. in economics from the Wharton School of Business and a B.A. in psychology with a minor in English from the College of Arts and Sciences.
Read more
We are a small group of like-minded citizens who are concerned with the general deterioration in the overall value system of the nation, but have abiding belief and commitment in India's potential and prospects as a successful democracy. We are a fraction of a very large number of Indians who, we believe, share our hopes and aspirations but have no means to channel their views and opinions in India's public domain.
In the last few months, the country has witnessed eruption of a number of egregious events, thanks to an active media eagerly tracking malfeasance. There are, at present, several loud and outraged voices, in the public domain, clamouring on these issues which have deeply hurt the nation. We do not wish to add to the confusion by joining that debate. What we are deeply worried about is not to allow India's huge growth potential and poverty alleviation challenges to be diluted or digressed from, and which would be a great loss, especially to the poor and the dispossessed.
Our aim is to try and rise above the present clamour and seek a more confident and purposeful national environment. As concerned citizens, who have full confidence in the country's ability to reach its social and economic development potential, and who have a deep and abiding faith in India's prospects for a vibrant, pluralist and successful democracy, we have put down a few thoughts. This letter is the beginning of our aim to develop specific actions and recommendations which shall be placed in the public domain, from time to time.
We are alarmed at the widespread GOVERNANCE DEFICIT almost in every sphere of national activity Read more
N.R. Narayanana Murthy, C0-Founder, Chairman and Chief Mentor of Infosys and touted to be one the greatest brains that India has produced, has propounded an outlandish theory that "the need of the day is to move people away from agriculture to low-tech services and manufacturing".
What a bizarre notion! If you move people away from agriculture, who will produce rice, millet, pulses, vegetables and all that we need to eat to survive?
Perhaps Narayana Murthy will produce them in the swanky offices of Infosys situated in prime real estates of Bangalore!
Anyway look out for the booking date to get your bag of E-Rice!
Here is the excerpt from that path-breaking interview that appeared in Businessworld (4th May 2009):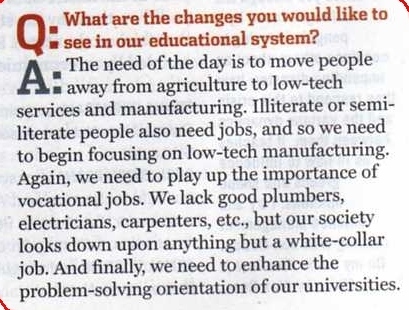 It is a lamentable fact that rural folk find it increasingly difficult to find young labourers willing to do work on the fields, since youth are lured towards glittery life in towns and cities as portrayed in films and TV shows. And Murthy adds his bit to the malady!
A new teacher was getting to know the kids by asking them their name and what their father did for a living.
The first little girl said: "My name is Mary and my Daddy is a postman."
The next child, a little boy said: "I'm Andy and my Dad is a mechanic."
And so it went until one little boy said: "My name is Johnny and my father is a striptease artist in a gay club."
The teacher gasped and quickly changed the subject. Later, in the school yard, the teacher approached Little Johnny privately and asked if it was really true that his dad danced nude in a gay bar.
Little Johnny blushed and said, "No, he's really a Business Development Director at Lehman Brothers, but I'm just too embarrassed to tell anyone."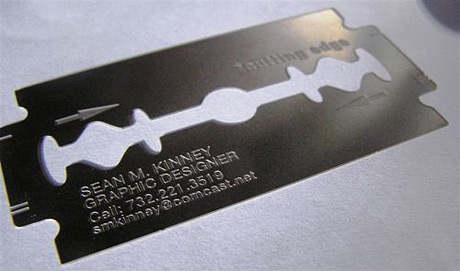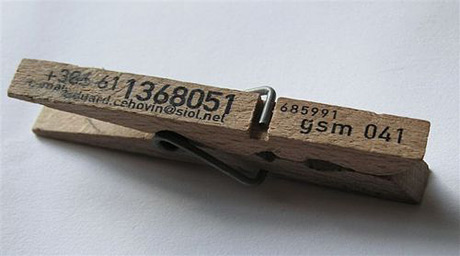 Like them? There are many more of such creative stuff in this site. And his previous showcase of such cool business cards got over a million page views! :green:
January 24, 2008 · Filed Under ·
Comment

"Management Speak" is a set of management aphorisms rendered with insightful epigrams exploding the fine print hidden behind the jargon!
This collection is a part of "Keep the Joint Running" (KJR), the much-subscribed column of Bob Lewis.
You may like to subscribe to the weekly KJR articles by registering here.
This page contains a collation of selected "Management Speak" quips, which have been reproduced with permission.
Thanks a bundle, Bob!!
---
Management Speak
| Management speak | Translation |
| --- | --- |
| I'm committed to a high level of organization and structure. | I'm a hopeless mess and I'm depending on you to cover for me. |
| You're not a team player. | You don't think like I do. |
| You will have to do more with less. | We are shipping more work offshore. You get to deal with the fallout. |
| You're immature. | I'm immature. |
| I don't want yes-men. | You don't have to agree with me, as long as you don't disagree with me. |
| I get the big bucks because I've got the brains. | I'm clever enough not to let on I don't know what I'm doing. |
| We're looking for a dynamic and highly motivated self-starter | We're looking for someone we don't have to pay much. |
| There will be equitable separation packages for employees at all levels. | We get golden parachutes. You get tossed out of the plane with a backpack. |
| Thanks to your superhuman effort we dodged a bullet. | Your job is now to dodge one bullet per week. |
| That's an interesting idea. Let me think about it for a while and get back to you. | That's a great idea. Let me see how I can get full credit for it. |
| Things have changed and it now looks like your idea just might work. | You were right all along. |
| Let me play Devil's Advocate. | My objections to your idea are pretty weak, but I'll persist on arguing anyway. |
| This situation provides a unique opportunity to innovate a solution. | You're on your own. We haven't a clue how to solve it. |
| We need to define a process for the future. | This got out of control and I didn't handle it. |
| Don't be afraid to tell me bad news. | So long as your bad news doesn't threaten my job security. |
| Use your best judgment. | Agree with me. |
| Get your priorities straight. | Use your psychic powers to figure out what I'm most worried about right now. |
| The new supervisor has a management by crisis style. | The department now has a crisis-by-management style. |
| Trust me on this. | I'm making this up. |
| Speak candidly – I have an open door policy. | Speak carefully; say the wrong thing and the door that will be open for you is the exit. |
| We need you to be a self starter. | We don't have any effective management here. |
| All you have to do… | This will take you at least a year. |
| Sounds great; Can you e-mail me the details? | I must remember to add you to my spam filter's blacklist. |
| It looks good in the PowerPoint. | It will be a miserable failure when put into practice. |
| I'm not going to make an official announcement. | I don't want to have to answer any difficult questions. |
| Tell me about yourself. | If I tried to read your resume, I wouldn't understand it. |
| We need to communicate better. | You need to use smaller words. |
| You don't know the history of this. | You aren't choosing sides. |
| Let me know if there's anything I can do. | There's nothing I can do. |
| You will never know how important your contributions have been to the organization. | Neither will anyone else, because I'm taking all the credit. |
| I don't care who does it, as long as it gets done. | I don't care who does it, as long as it's not me. |
| You are empowered to make decisions on your own. | I expect you to figure out what I want you to do, and do it. |
| We just need a little time to get used to each other. | You just need a little time to get used to seeing things my way. |
| It should work. | We haven't tested it yet. |
| My experience and instincts tell me … | Don't confuse me with the facts. |
| I take full responsibility. | There's no way I'm going to get fired over this. |
| I don't see any problem with that. | That won't affect my bonus adversely. |
| We need to hold people accountable. | We need a ready supply of scapegoats. |
| I think we have a mis-link here. | I screwed up because I didn't listen to you, and I won't take the blame. |
| I will need to research this more. | I need to ask my boss. |
Please stand by for more of such gems!
After browsing through my outlandish interpretation of the legend of Harischandra in previous post, a precocious whizkid whom I met yesterday observed that the kid in question is likely to change his views when he grows up. He may look at the story in a different perspective when he comes of age and draw appropriate morals.
Fair enough. We have been reared up on these morals. No means of escaping! But what about the rebel in me, who is already past that age? May be it is yet another proof of the adage that one can continue to be immature throughout one's life! But as Mr. Alfie Doolittle would readily acquiesce, "I like to be that way!". Oh, half my kingdom for the bliss of ignorance!
And it leads me to the revisit of the topic of truth and trust through an article in the "CIO" magazine. Read more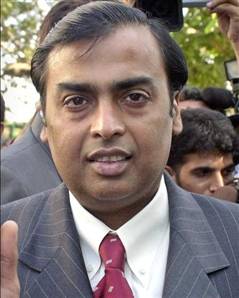 Billionaire Mukesh Ambani (from India) on Monday became the richest person in the world, surpassing American software czar Bill Gates, Mexican business tycoon Carlos Slim Helu and famous investment guru Warren Buffett, courtesy the bull run in the stock market.
Following a strong share price rally today in his three group companies – India's most valued firm Reliance Industries Ltd., Reliance Petroleum.Ltd., and Reliance Industrial Infrastructure Ltd – the net worth of Mukesh Ambani rose to $63.2 billion (Rs 2,49,108 crore).
In comparison, the net worth of both Gates and Slim is estimated to be slightly lower at around $62.29 billion each, with Slim leading among the two by a narrow margin.
Warren Buffett, earlier the third richest in the world, also dropped one position with a net worth of about $56 billion.
~ From: Rediff.com :: Read it from CNBC here.
But there were skeptics who thought Reliance will cease to be the Numero Uno after the split between brothers, Mukesh and Anil Ambani, but both are growing in wealth!
This is really a good news for every Indian!
Bravo, Mukesh!
October 8, 2007 · Filed Under ·
Comment
As nearly everyone knows, a Manager has particularly nothing to do except:
To decide what is to be done
To tell somebody to do it
To listen to reasons

Why it need not be done (or)
Why it is not his job (or)
Why it should be done in a different way, etc.

To decide as to who should do it (the most ticklish part of the business)
To follow up to see if the thing has been done
To discover it has not been done
To enquire why
To listen to excuses
To entrust it to someone else
To discover that it has been done incorrectly
To point out how it should have been done
To find it to be of no avail
To conclude that as long as it has been done,
it may as well as be left alone.
To wonder if it is not the right time to get rid of the people who cannot do a thing right.
To reflect that each probably has a family and that, any successor would certainly be just as bad or may be worse!
To consider how much simpler and better
the thing would have been done
if one had done it oneself
in the first place!
To reflect sadly
That you could have done it right
in twenty minutes
what has taken
a couple of weeks
for somebody else
to do it wrong !
The term "Manage" is often used in common parlance with a tinge of negative connotation like this:
He has somehow 'managed' it.
The student just 'managed' to pass the examination.
His house is not so big; just 'manageable'.
How did you 'manage' to get a promotion, given your reputation as an abominable sloth!
What the heck is Management!



Most of what we call management consists of making it difficult for people to get their work done.



~ Peter Drucker.

A layman's perception of management is some sort of an esoteric activity understood only by a few IIM-ians and Harvard-ians. It is also felt that the art of management is the exclusive domain of a few pompous pundits gushing out high-sounding and jargon-rich discourses. Besides, many creative management consultants nonchalantly drop awe-inspiring names like McKinsey's, Tom Peters, Parkinson, Akio Morita, Lee Iacoca and their ilk. If you allow yourself to be still more awestruck, the wolves are apt to throw at you such pulpy and exotic best sellers like 'One Minute Manager', '10 Myths of Management', 'WOW' etc. to bamboozle to a much greater degree!
A puritan has attempted to define the management thus:-
"Management is making desirable results happen through ethical and socially acceptable means, harnessing and optimally utilizing the available limited resources."
But in fundamental terms, management is managing men who in turn manage the other components of an enterprise like money, machine and material. When "Business is people", managing a business is managing people. Period.
In these Web pages, I wish to publish my collection of snippets and quirkiest quips and quotes from the very management Guru's and also the experience of ordinary folks who have shown excellence in their own field of management.
Also some teensy-weensy tidbits out of my own humble efforts in practicing the art of management!
Please visit these pages:
Management Snippets
The wit and wisecracks of Tom Peters!
Travails of a Manager
More of my collection of Management Principles are getting ready!
I hope to publish them Soon!
Please come back!
Is it pain in the butt?
You bet it is! Nobody said that power comes cheap!
Tear up the rule book, because everything has changed. So, 'forget learning, learn forgetting!'
Technology will make many of the low-paying white-collared jobs redundant. So you really need to look to moving up the value chain.
The notion of existence in perpetuity is a horrible concept. I'd rather be the chairman of Netscape, which got born, changed the world and died within 48 months; and have that on my tombstone, than have, 'he met his earnings target for 50 straight quarters'!
How long does it take to achieve excellence? May be less than a nano-second to attain it but a lifetime of passionate pursuit to maintain it!
The devil is in details!
Dot the 'i's; cross the 't's!
Answer every phone call, every letter or e-mail!
Nothing is unimportant!
When marketing a product, differentiate the intangibles; When marketing a service, differentiate the tangibles!
In 1970, it took 108 men five days to unload a ship at the London docks. Today, eight guys with computers do the same job in one day. The blue-collar world has been revolutionized. And the white-collar world is next up, thanks to the incredible leaps in technology!
In the next few years, 90 per cent of all white-collar jobs will either have vanished or changed beyond recognition.
Don't bother with gradual change. Incrementalism is the worst enemy of innovation.
General Electric was begun by Edison as an entrepreneurial organization, and even at their bureaucratic worst, they had guys who actually ran things who never paid any attention to HQ!
The Afgan campaign of US was Napsterised in the battlefield by cutting out the middle managers: majors, colonels and generals. Result: frontline soldiers could talk directly to pilots. Earlier, a war could be over before any army request for air cover would result in air-force support!
The best leadership model is a general manager of a sports team who spends 25 hours a day, 8 days a week, 53 weeks a year in pursuit and retention of the best talent!
Many boards have members with an average age of 87.5 years and almost all of them are famous for having been famous some years ago!
Good CEO's should redesignate themselves as 'CDO's, or, Chief Destruction officers! Because, they are essentially get paid for blowing up their business before the competition does!
October 8, 2007 · Filed Under ·
Comment
A leader cannot improve his performance and that of his team without obtaining candid feedback. But it is hard to come by, unless stimulated. One of the ways to prompt such a feedback so that you can zero in on things that you have to cause change is by asking them these three questions:

What should I stop doing? Ask which behaviors stand in your way of success.
What should I keep doing? Inquire about what you do right, and should continue to do.
What should I start doing? Once you've stopped unproductive behaviors, you'll have more time and energy for new behaviors.

Source: "Management Tip of the Day" by Harvard Business Review.

In this highly competitive and chaotic market place, the sine qua non of success is to covet, dream and toil towards the goal on all cylinders.
If you are a manager, look the part – well-groomed and smartly shod.
A lynchpin:


"Every organization has a few people who are respected and generally listened to. They may not have a very high sounding designation but if you get them round to see the merits of an idea, you can be sure that it can be carried through the organization without any trouble."

Don't ask for acceptance, earn it!
An executive's job is "task-driven", whereas an entrepreneur's is "idea-driven".
It is lonely at the top.
Organizations can thrive today only if they have:

Less hierarchy (Flat organization)
Smaller egos and
More teamwork.

Trees always die from top – so do some organizations for want of integrity at the top level of management.
Someone has to take responsibility. I will.
~ Sir Winston Churchill.
If you want to achieve excellence, quit doing less than excellent work!
~ Thomas Watson, Founder – IBM.
The best way to get nothing done is to take up intractable problems which no one else has been able to solve in the centuries before you!
Work must be more fun than fun!
~ Noel Coward.
Change is a door which can be opened only from the inside.
~ A French proverb.
There is no such thing as a "Good man". Good for what is the question.
~ Abraham Lincoln.
Don't do anything that someone else can do for you.
A "well-rounded person" is a sure-shot prescription for mediocrity!
There are no buffer zones at the top. Winners and leaders do not live off buffer zones.
Actually, a Government bureau is the nearest thing to eternal life we will ever have on earth. No government ever voluntarily reduces itself in size. Government programmes once launched, never quite disappear.
~ Ronald Reagan.
"I look back when I was 19 years old and a friend of mine, Paul Allen and I had a dream. And the dream was that computing will be very different."
~ Bill Gates.
Talk to your customer as if he is a long-lost friend!
~ From FISH!
If we choose to love the work we do, we can catch the limit of happiness, meaning and fulfillment everyday.
~ From FISH!
People spend about 75% of their adult wake time doing work-related activities – getting ready for work, traveling to work, working and decompressing after work. If we spend that much time in that part of our lives, we ought to enjoy it and be energized by it.
~ Ken Blanchard, Ph.D.
An executive has to talk and then walk the talk!
Avoid verbal diarrhea in business communication. Abhor filibustering and gibble-gabbling.
Let your letters and talk be crisp and to the point. When time is directly proportional to money, why indulge in the pastime of farting through the mouth!
Golden rules of written communication:

Ask yourself, "Is it really necessary, anyway?"
Clarify your ideas before even putting pen on paper (or, booting your Personal Computer!)
Meditate a while on the true purpose of the communication
Ensure that every sentence serves a purpose, and conveys something of value to the reader. In short, don't waffle!
And never ever forget this axiom:


The moving finger writes, and, having writ,
Moves on; nor all thy Piety nor Wit
Shall lure it back to cancel half a line,
Nor all thy tears wash out a word of it.

~ Omar Khayyam

Man ages by managing!
Management is essentially to be focussed on attitude instead of skills.
Ask yourself how you would like your boss to manage you and you'll get a reasonable idea how to manage your people.
An iron-clad hierarchical organization breeds obsequious behaviour with superiors, competitive behaviour with peers and indifferent behaviour with subordinates.
Time and people have to be woven together to achieve the set objectives.
Remember, diamonds are formed by extreme pressure! People harness their faculties only under pressure!