It was the culmination of a prolonged wait for the final announcement. One might be wondering as to how long you could prolong it, with rival factions vying to take control of the astronomically humongous fortune (one estimate puts it at 1.5 lakh crores!) and fighting in the open through the scandal-hungry media. A few were knocking at the doors of courts too.
So it was announced at about 10-40 hours IST on 24th of April 2011 CE that the ultimate GodMan, the saviour of millions of ordinary mortals has ultimately kicked the ceremonial bucket three hours earlier. But the end was not sudden. Each vital organ after another was steadily failing in the hospital where he was provided conventional medical attention (not a divine magic) for about a month. His condition during that period was filed under the column of living, not by the mystic powers that are attributed to him, but by hemodialysis, heart-lung machine and ventilator – like any other terminally ill muggles!
But he holds the record for sustaining the longest "godmanship" in the world. And that is a remarkable feat for a Telugu-speaking normal lad from a remote village in Andhra Pradesh.
Was Sathya Sai Baba a fake, or a real incarnation of God as claimed by him? Let us see what BBC has to tell us:
Balance episodes of this BBC documentary can be viewed from this web page.
Further reading:
You can, of course, use Google for further enlightenment!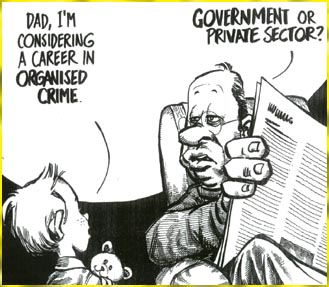 Google has turned God! Yes, almost!
The folk who swear by

stoutly believe that Google has a strong claim for the title of God!
We at the Church of Google believe the search engine Google is the closest humankind has ever come to directly experiencing an actual God (as typically defined). We believe there is much more evidence in favour of Google's divinity than there is for the divinity of other more traditional gods.

We reject supernatural gods on the notion they are not scientifically provable. Thus, Googlists believe Google should rightfully be given the title of "God", as She exhibits a great many of the characteristics traditionally associated with such Deities in a scientifically provable manner.

We have compiled a list of nine proofs which we believe definitively prove Google's title as God.
Visit

and read the Commandments, prayers and proof!!
Is devil the sine qua non of God's existence?
You can't make a hero without a villain. It is the villain who makes a hero. There will be nothing called good if there is nothing bad. It is like saying if everyone is vaccinated, you don't need one.
This kind of dichotomy is the fundamental cornerstone of the universe. There is no white if there is no black, no light if no darkness, no heaven if no hell, no virtue if no vice, no "punya" (= good deed – "Mitzvah") without sin. So in effect, both are complementary to each other. Each depends on the other for its very existence, rather symbiotic. That is the reason why the evil is portrayed to be as powerful, if not more, as the God(s) in all mythologies and religions, ancient or new!
In Christianity, God and the Devil (aka Satan, aka Lucifer) are usually depicted to be perennially fighting to exercise control over the souls of humans, with the Devil seeking to lure people away from God and into Sheol. The Devil commands a force of lesser evil spirits, commonly known as demons.
In Islam the Devil is referred to as Iblis or "Shaitan". According to the Qur'an, God (called "Allah" in Arabic) created the Satan out of "smokeless fire", while He created man out of clay. The primary characteristic of the Devil, besides hubris, is that he has no power other than the power to cast evil suggestions into the heart of men and women. Fundamentally Islam holds its believers in a tight leash by constantly harping on the threat of Shaitan's influence on their lives (as well as afterlife), if you do not conform strictly to the tenets. That way, and through other blandishments like 72 of the choicest and full-breasted virgins soaked in copious flow of wine in heaven, Islam turns even doctors of medicine into human bombs ("Fidayeen" terrorists), ready to sacrifice their precious lives to annihilate "kafirs" meaning non-Muslims!
Read more
The year's at the spring,
And day's at the morn;
Morning's at seven;
The hill-side's dew-pearled;
The lark's on the wing;
The snail's on the thorn;
God's in his Heaven -
All's right with the world!
~ Robert Browning in Pippa Passes
Pippa Passes was a dramatic piece, as much play as poetry, by Robert Browning published in 1841 as the first volume of his Bells and Pomegranates series.
Browning ends his poem with this verse:-
But at night, brother Howlet, far over the woods,
Toll the world to thy chantry;
Sing to the bats' sleek sisterhoods
Full complines with gallantry:
Then, owls and bats, cowls and twats,
Monks and nuns, in a cloister's moods,
Adjourn to the oak-stump pantry!
And what are "twats", anyone?
Please have a look at the way the "famous" painter M.F.Hussain has chosen to denigrate the Hindu Gods being worshiped by a vast majority if Indian population. And the double standards applied by him in fully clothing Mother Teresa and a Muslim king, but depicting only Hindu gods naked betrays his perverse approach, emboldened by the support given by pseudo-secularists of India.

YouTube - Watch - Hussain mocking Hindu Gods!

Compare this to the furore created when a few cartoons showing Prophet Mohammed appeared in a Danish newspaper.
And to top it all, he is going to be awarded with Raja Ravi Varma Award by the Government of Kerala!
Yoohoo, self-respecting Hindus, please wake up from your Hypersomnia!
To know more about this sordid episode and to sign an on-line petition against this kind of derogatory depiction, please visit the Hindu Jajgriti Samiti Website. You can also view the divine paintings of Raja Ravi Varma, and the naked renderings of "superior art" by perverse Hussain juxtaposed for your perception!
The above is one of the paintings through which the 90-year-old Famous (!) painter M.F. Hussain chose to denigrate the Hindu Gods by depicting them nude and in obnoxious erotic postures.
Any self-respecting Hindu, and for that matter any reasonable and straight thinking individual will not approve of this kind of acts which aim to hurt the religious sentiments of tens of thousands of people.
You can view the other such handiworks of Hussain and sign an on line petition in this web site.