Hindustan Times reports:
Before leaving India on Tuesday, exiled Bangladeshi author Taslima Nasrin said the treatment meted out to her by the Government of India was nothing less than "cold-blooded state terrorism to drive her out of the country.
Taslima said she is planning a lecture tour where she would speak about her days inside a room with no view and also how she was "treated like an animal". In a no-holds barred interview, Taslima said that the rulers were as crude as those who are despised because of their religious fundamentalism. She said she was deprived of human rights and tortured by the Centre.
"And to expose the mask of this government, which was out to kill me, I will paste all that I experienced on my website," said Taslima.
Relieved that her "house arrest in a free country" was ending, Taslima said that she would write and tell the world about her harrowing experience in the State of the World Forum, where she has been invited to speak by the former USSR President Mikhail Gorbachev.
Amnesty International and International Human Rights Organisation have also approached her to narrate her nightmarish experience in India, she said. Taslima said she is planning a lecture tour where she would speak about her days inside a room with no view and also how she was "treated like an animal".
"Fundamentalists do not torture you to death. They just finish you off. But the Indian Government slowly pushed me towards death. My terrible experience has shattered all notions about a secular and democratic India," Taslima Nasrin told the Hindustan Times.
"For 20 years, I have been hitting out against fundamentalism. There has been no physical attack on me. But India, when it failed to break me psychologically, destroyed me physically by denying treatment to an ill person," added Taslima.
She pointed out that her own country Bangladesh had driven her out in 1994 but did not inflict psychological or physical trauma that could lead to the heart and eye diseases. For that matter, Taslima said in Kolkata too, the state government did not impose a ban on her movement.
Talking about her dilemma and frustrations, she said she would very soon write in international dailies on how a handful of hooligans made the Centre to toe its line and punish an author. The political parties of India are so secular that they were scared to defend a person who is anti-Islam, she said.
Taslima's six-month residential permit in India is expiring in August.
She said that before its expiry she plans to return here. "Just to check whether I can stay in Kolkata. If denied I will pack up and leave India for good."

Wikipedia, the free on-line encyclopedia, contributed by netizens and the most accessed information resource on the web, has stood firm in retaining the 25th century illustration of Muhammed, in spite of an on-line petition by Islamic zealots.
Here is the report from the Digital Journal:
A group of Muslims have started a petition against Wikipedia because on the Muhammed entry page, there is a 15th century illustration in a copy of a manuscript by Al-BÄ«rÅ«nÄ«, depicting Muhammad preaching the Qur'ān in Mecca.
The petition can be found here and it states:
"In Islam pictures or Prophet Muhammad (PBUH) and other holly figures are not allowed, but on wikipedia they has published some pictures that are showing not only a body with white face but an image that has a complete face.. that is even not allowed by SHITAT fact of Islam.
i request all my brothers and sisters to sign this petition so we can tell wikipedia to remove them."
The petition lists the URI of the impugned image. Ironically the image of Muhammed, depiction of which they are protesting against, is appearing on the protest page itself!!
Another interesting fact is that not all signatories of the petition support the call for the removal of the image!
And the Wikipedia authors have put their foot down firmly and have refused to remove the image. Here is their clearly-stated stand on this issue:-
Wikipedia recognizes that there are cultural traditions among some Muslim groups that prohibit depictions of Muhammad and other prophets and that some Muslims are offended when those traditions are violated. However, the prohibitions are not universal among Muslim communities, particularly with the Shi'a who, while prohibiting the images, are less strict about it. Since Wikipedia is an encyclopedia with the goal of representing all topics from a neutral point of view, Wikipedia is not censored for the benefit of any particular group. So long as they are relevant to the article and do not violate any of Wikipedia's existing policies, nor the law of the U.S. state of Florida, where Wikipedia's servers are hosted, no content or images will be removed from Wikipedia because people find them objectionable or offensive. (see also Wikipedia:Content disclaimer)

The traditional reason given for the Islamic prohibitions on images of prophets is to prevent the images from becoming objects of worship as a form of idolatry, where the image becomes more important than the subject it represents. However, Wikipedia uses the images of Muhammad as examples of how Muhammad has been depicted by various Islamic sects through history and not in a religious context. Therefore, there are no concerns that the presence of the images on the articles will result in the practice of idolatry among Muslims.
I wish to ask these protesters, "Why didn't you voice your protests when the goods and goddesses worshiped by the millions of Hindus were obscenely depicted by M.F Hussain, the renowned painter. You can view the way he has debased the Gods here. Is it not defamatory and blasphemous? Why this kind of double standards? Why not this Hussain show Muhammed in such obnoxious postures? Simple! He would have to run for his life fearing an imminent fatwa!
These are the men who hold the world hostage, hiding somewhere in Pakistan:
(Pictures and story courtesy: Hindustan Times)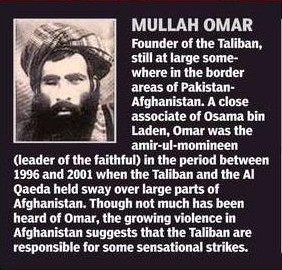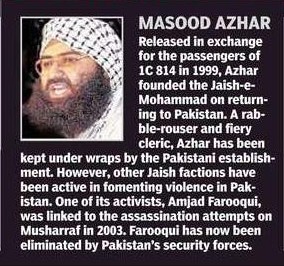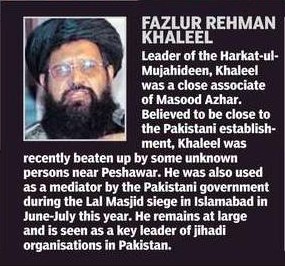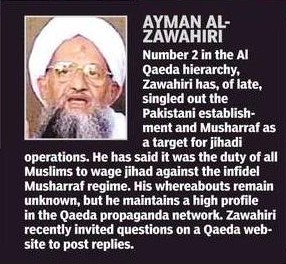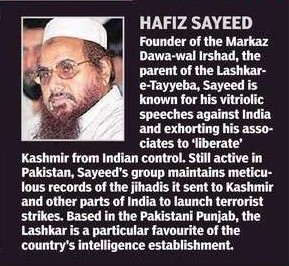 India's most influential Muslim seminary, the 141-year-old Dar-ul-Uloom in Deoband, Uttar Pradesh, has issued a fatwa (edict) forbidding Muslim women from conceiving through artificial means. This effectively means that modern medical techniques like in-vitro fertilisation, surrogate motherhood and artificial insemination are not allowed, according to the seminary "It is not right to masturbate in order to get children by artificial insemination…," said the fatwa.
One of their concerns is that women would have to disrobe in front of male doctors for the procedure to be carried out. Mufti Imran, a high-ranking Dar-ul-Uloom official, said: "A woman whose husband is not able to give children is not permitted to use any other means. The fatwa also bans infertile women from allowing others to bear their babies." The fatwa has raised a storm of controversy within the community While it has found support in some sections, several maulanas themselves as well as doctors and prominent personalities have opposed it. All India Muslim Personal Law Board (AIMPLB) member Khalid Rashid was among those who supported the edict. "A child should be created naturally," he said. "If Allah has not given a child, He has not given the right to get one through artificial means either"
The Doobandi Dar-ul-UIoom has so far issued seven lakh fatwas since its creation on issues like use of western toilots, sexual relationship, personal hygione, and several other nitty-gritties.
Here are some sample Fatwas:- Read more
CPM ruled West Bengal Government has shamelessly whisked away Taslima Nazreen from Kolkatta and sent her to Rajasthan, a BJP-ruled state! Reason: with crucial panchayat elections due in a few months and the state's 27 per cent Muslims certain to play a deciding role, the CPM is simply not in a position to take organizations like the Jamait-e-Ulema Hind and Mili Ittehad Parishad, who want Ms. Nazreen leave West Bengal for her liberal views on Islam, lightly.

Burkha Dutt, Managing Editor, NDTV-24/7 has made these observations in the Hindustan Times op-ed:-
As ironies go, it probably doesn't get any better than this. A panic-stricken Marxist government bundling up a feminist Muslim writer in the swathes of a protective black burqa and parceling her off to a state ruled by the BJP – a party that the Left would otherwise have you believe is full of religious bigots.
…
Does a twisted notion of secularism make us respond to censorship differently when it applies to the Hindu majority? We are quick to condemn the lunatics who wield trishuls and wear saffron. But isn't it time that the skull-capped and long-bearded version of fanaticism and hooliganism receives our contempt in exactly the same measure?

Creative freedom cannot be applied selectively Oth . erwise, our self-image of being an open and proud democracy will need another look in the mirror.
Sane observations indeed. But for politicians, vote bank mathematics alone count, country or values go to hell!
Is devil the sine qua non of God's existence?
You can't make a hero without a villain. It is the villain who makes a hero. There will be nothing called good if there is nothing bad. It is like saying if everyone is vaccinated, you don't need one.
This kind of dichotomy is the fundamental cornerstone of the universe. There is no white if there is no black, no light if no darkness, no heaven if no hell, no virtue if no vice, no "punya" (= good deed – "Mitzvah") without sin. So in effect, both are complementary to each other. Each depends on the other for its very existence, rather symbiotic. That is the reason why the evil is portrayed to be as powerful, if not more, as the God(s) in all mythologies and religions, ancient or new!
In Christianity, God and the Devil (aka Satan, aka Lucifer) are usually depicted to be perennially fighting to exercise control over the souls of humans, with the Devil seeking to lure people away from God and into Sheol. The Devil commands a force of lesser evil spirits, commonly known as demons.
In Islam the Devil is referred to as Iblis or "Shaitan". According to the Qur'an, God (called "Allah" in Arabic) created the Satan out of "smokeless fire", while He created man out of clay. The primary characteristic of the Devil, besides hubris, is that he has no power other than the power to cast evil suggestions into the heart of men and women. Fundamentally Islam holds its believers in a tight leash by constantly harping on the threat of Shaitan's influence on their lives (as well as afterlife), if you do not conform strictly to the tenets. That way, and through other blandishments like 72 of the choicest and full-breasted virgins soaked in copious flow of wine in heaven, Islam turns even doctors of medicine into human bombs ("Fidayeen" terrorists), ready to sacrifice their precious lives to annihilate "kafirs" meaning non-Muslims!
Read more
I stumbled upon a very interesting paradigm on Ipod in an article by By Jefferson Alberry II in The Register. Here is an excerpt:
In-depth analysis In a fortnight during which just about everyone on the planet, excluding naturally those in a coma or temporarily indisposed up some tributary of the Amazon, has offered their two bits' worth on the launch of Apple's iPhone, it comes as a bit of a surprise that al-Qaeda has dismally failed to contribute to the brouhaha.

We should add that Afghanistan's fun-loving Taliban have also maintained a resolute silence on the matter, but since they're violently opposed to absolutely everything, except hanging people from construction cranes and blowing up giant Buddhas, it can be taken as read that they consider the device an insult to Islam.
Click here to find out more!

Quite how Ozzie bin Laden views the paradigm-redefining iPhone remains, therefore, a mystery. It's possible his organisation has been too busy working itself into a tizz over the Salman Rushdie knighthood announcement to consider the matter, but we're certain al-Qaeda has enough righteous indignation to throw two simultaneous strops.

So, the options are as follows: al-Qaeda is so angry about the iPhone's inflated pricetag, lack of user-changeable battery and 3G capability that it is planning something really big; or Ozzie's sidekick Ayman al-Zawahir has been stunned into reluctant admiration by Apple's audacious UI and crisp-as-a-Baghdad-winter-morning MP3 playback.
Read the rest of the story here.
"No", avers David Frawly in his book, Awaken Bharatha : A call for India's rebirth.
He dispels many myths and misconceptions about Sufism in his well-written book. The gullible Hindus of India tend to be too credulous about the bona-fides of Sufi mystics as moderating influence on Islam. But unfortunately this is not true. Islamists of any hue cannot change their basic tenets like annihilation of infidels and spreading of pan-Islamism.
You may read excerpts from his book in this web site.
The following excerpt from Wikipedia page on Sufism vividly exposes the real colour of Sufism! Read more
Every event and every story has many sides. Some are told, but much remain hidden. But the hidden part, or the twisted part does the most damage. Even if the real truth – truth always has several versions – gets unraveled, it will be too late. Human mind has so much inertia that it only tends to believe and act on what lodges there first. This susceptibility of humans is exploited ingeniously by clever manipulators with vested interests to embark on subtle social engineering. Spreading half truths and provocative suggestions cause lot of irreversible damage to the mankind.
I am alluding to the revelations by two bloggers that a few unpublished cartoons (purported to be fakes) were added to the notorious Danish cartoons with a view to whip up passions. You can read the posts of Gateway Pundit and Astute Blogger to dig more.
God save the motherland from the peddlers of hatred (of all hues).