Who said it is? But it is not a rhetorical question.
It is true that many to whom desktop computer is synonymous with Windows try to move curiously near Linux with the assumption that it is just another Operating system like windows and they expect it to be like that. More than that. "They come to Linux, expecting to find essentially a free, open-source version of Windows", avers Dominic Humphries. That is the truth of the matter.
He has written a comprehensive article dwelling on what to expect and what not to in Linux and shapes your mindset such that your Linux experience is smooth and rewarding.
In addition, he imparts ample "gyan" (meaning knowledge in Sanskrit) on Open source, Linux and all that jazz.
A must read for all techies, non-techies and wannabes!
Link? Duh!
Here it is:



!=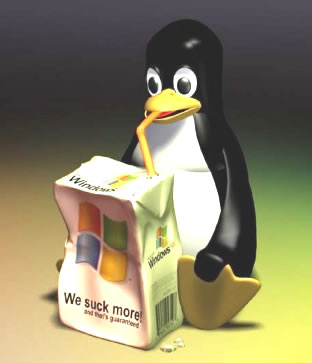 Linux enjoys all the four freedoms envisaged by GNU. You can freely use it, modify it (since you have its source code freely available) and redistribute it as modified with the same kind of freedom enshrined in it.
Source: "Going GNU"
I made a presentation on WordPress at FOSSCONF – the Conference of Free and Open Source Software conducted by Indian Linux Users' Group Chennai and NRC-FOSS at Chennai, India on 2008-02-01.
Here is the certificate to this effect followed by the presentation:
You can view the presentation here:
Yes. And the initial run of the Linux-based 10,000 units have been sold out in Wal-Mart!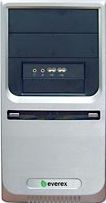 Everex's TC2502 gPC is the first mass-market $200 desktop PC. The spec of the system is very low – 1.5 GHz VIA C7 CPU embedded onto a Mini-ITX motherboard, 512MB of RAM and an 80GB hard drive – but this doesn't matter because the system does pretty much everything that your average PC users want.
It contains 10/100 Mbps ethernet and is pre-installed with OpenOffice 2.2. With the gPC you can surf the web, send and receive email, work with word processor and spreadsheet documents, chat with friends, keep a blog updated, edit photos and pictures, play DVD's and even burn CDs thanks to the built-in CD burner.
One intelligent user has installed FreeNAS and turned the gPC into a highly affordable, quiet, energy-efficient home server! He has found it compatible with FreeNAS right out of the box: all of the integrated hardware is supported, and the BIOS will boot from a thumbdrive (so you can install the FreeNAS OS on the thumbdrive). In addition, the motherboard has two SATA 150 headers, so you have very respectable hard drive upgrade options.
The net outcome of the success of this PC is that Linux is making a definite headway into the PC market. Adrian of ZDNet sums up like this:-
Maybe a more relevant question is not whether Linux has found a niche, but whether Windows has outgrown the average user?
Recently, a deal with the Nigerian government to install and use Mandriva Linux on 17,000 Intel Classmate PCs got derailed when the government decided to overwrite the installed operating system with Windows XP.
Christopher Dawson of ZDnet wonders why Nigeria had taken a decision to overwrite Windows on Mandriva Linux, after extensively testing a Classmate PC loaded with the Linux distro and vouching for its excellent performance.
Well, The Nigerian Government is going to pay for the PCs as well as the Mandria Linux installation, but they have chosen to run the machines on Windows. Reason? Quite obvious, says the ZDnet story, since Microsoft has a lot to lose if the next billion computers sold in the world don't run Windows and 1/7th of the world doesn't see Windows and PC as necessarily going hand in hand.
Stakes are very high indeed. And you have to play the game to save your foothold, call it by any epithet you like, but that is not going to make my bills smell bad!
And you want to know more about this sordid affair?

Here is the first hand account of the happenings from Monsieur François Bancilhon, CEO of Mandriva himself!

Here are some "snafus" and intentional monkeying by the ultimate boogeyman of computer world, Microsoft of Windows, as reported by Robert X. Cringely in his latest column:
Windows Update automatically installed Windows Desktop Search 3.01 on systems that had been configured not to run the resource-hogging application. Microsoft's response? "Oops, sorry."
The forced update has caused many users' systems to suffer an involuntary reboot earlier this month. The culprit? Windows Live OneCare, which automatically changes your Update options to be automatic even if you had disabled it.
The vulnerability that allows a malicious PDF file to turn your PC into a zombie is yet to be fixed, even after three months. a patch is still coming!
And do you really wanna play around with next (Scoop! Don't you reveal this to anyone!) Windows Really Good Edition?
Then Click Here!
Here is how BOB concludes the story:
The ugly truth is that Microsoft is using security fears to force its enslaved base (that would be you and me) into installing stuff it wants us to have. Somebody needs to put a stake through its heart, before it kills again.
The moral of the story is:

Go Ubuntu, oh, Ubuntu!!
"Smart, Secure and Easy!"

The good folks at Ubuntu.com have sent me a bunch of CDs containing Ubuntu Linux distribution ("Distro" to them geeks!). Each set contains a CD for installation and another for running Linux "out of the box". The CDs have come all the way from Switzerland, free. Yes, FREE – as in Free Lunch!
This is what the Ubuntans tell about their philosophy:
"Ubuntu" is an ancient African word, meaning "humanity to others". Ubuntu also means "I am what I am because of who we all are". The Ubuntu Linux distribution brings the spirit of Ubuntu to the software world.
The sublime element of the whole thing is the "non-caveat" that is printed on the CD's wrapper:
You are legally entitled and encouraged to copy, share and redistribute this CD for yourself and your friends. Share the spirit of Ubuntu!
You too can get Ubuntu from here.
I will come back here to share my experience with Ubuntu after playing around with it a bit.