Who said it is? But it is not a rhetorical question.
It is true that many to whom desktop computer is synonymous with Windows try to move curiously near Linux with the assumption that it is just another Operating system like windows and they expect it to be like that. More than that. "They come to Linux, expecting to find essentially a free, open-source version of Windows", avers Dominic Humphries. That is the truth of the matter.
He has written a comprehensive article dwelling on what to expect and what not to in Linux and shapes your mindset such that your Linux experience is smooth and rewarding.
In addition, he imparts ample "gyan" (meaning knowledge in Sanskrit) on Open source, Linux and all that jazz.
A must read for all techies, non-techies and wannabes!
Link? Duh!
Here it is:



!=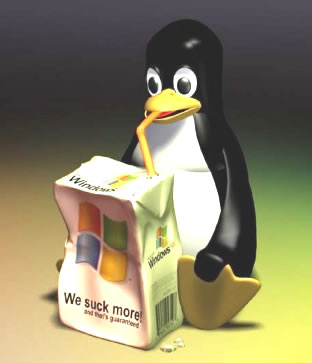 Techrepublic has listed 10 most annoying programs to a computer user, both on the system and on the internet.
I have slightly changed the list and put them in the ascending order of the degree of annoyance. Though the intensity of pain in the ass that these bugs produce is purely subjective, there is no gainsaying that there exist some specimens of terror in digital form which inflict universally on the hapless users.
10. Flash [#]
Flash is a good program. There is nothing to replace Flash movies – SWF or FLV. In fact the Youtube revolution has been made possible only by Flash. And Flash embedded players have ushered in the phenomenon of podcasting. In fact your cyber life would be thrown light years backwards with out Flash.
But having said that, there is no forgiving truckloads of Flash movies in intro pages of web sites. They trickle like molasses in December!
9. Yahoo and Google Toolbars
Read more
I wanted to try the bonanza of 5 Gigs of online storage offered by Windows Live. Armed with my old Hotmail ID, I fancied myself a winner. But alas, it was not to be!
Though I remembered the id, I forgot its companion, the password. What with having completely forgotten Hotmail after leaving it in disuse for over 10 years! It was my first web-based email in the days of text-only web-surfing using the Lynx browser.
Besides, the term "hotmail" itself has nowadays earned a negative snob value!
Coming back to the password story, I presently noticed the saviour link "Forgot password?" over there. I clicked it. Wanna know what happened afterwards?
These pictures would speak volumes! (Please click on them to get the bigger picture!)
This is the pièce de résistance!
Who said the great Bill doesn't have a sense of humor! He can take a dig at himself, for a change! Yoohoo, Bill-baiters! You are summarily disarmed!
Give Bill his due, guys. You can't beat Bill, so long he is in the midst of bill$!

YouTube - Watch - Bill Gates in CES

According to an InfoWorld report, the British Educational Communications and Technology Agency (BECTA) has instructed that British schools should not upgrade to Microsoft's Vista operating system and Office 2007 productivity suite. It also supported use of the international standard ODF (Open Document Format) for storing files, specifically avoiding Microsoft's OOXML (Office Open XML) document format because of concerns about compatibility between different applications.
The BECTA report has made the following observation which is very significant:
We have not had sight of any evidence to support the argument that the costs of upgrading to Vista in educational establishments would be offset by appropriate benefit,
Let us wait and see as to how many countries will take the cue and see reason!
Hail Ubuntu!!
The other name for Windows, Microsoft's ubiquitous operating system is "crash"! It'll crash at the slightest suggestion and at the most inopportune times. The internet and print media have dealt with the malaise of crashing ad nauseam.
Here is a whiz who has divined the reason for the crashy-crash. He avers it is after all, you own fault! His remedy: You type the following command: Hold ALT, CTRL, CAPS LOCK, and TAB while simultaneously pressing F8, HOME, ARROW DOWN, and ENTER!
This will bring up the following highly illustrative dialog box. Examine the tabs and options closely to select your preferences:
Here are some more fun thingys courtesy Microsoft!
Office Options unraveled:
Paper-clip helper:
Thanks: Mr. Nukie
Recently, a deal with the Nigerian government to install and use Mandriva Linux on 17,000 Intel Classmate PCs got derailed when the government decided to overwrite the installed operating system with Windows XP.
Christopher Dawson of ZDnet wonders why Nigeria had taken a decision to overwrite Windows on Mandriva Linux, after extensively testing a Classmate PC loaded with the Linux distro and vouching for its excellent performance.
Well, The Nigerian Government is going to pay for the PCs as well as the Mandria Linux installation, but they have chosen to run the machines on Windows. Reason? Quite obvious, says the ZDnet story, since Microsoft has a lot to lose if the next billion computers sold in the world don't run Windows and 1/7th of the world doesn't see Windows and PC as necessarily going hand in hand.
Stakes are very high indeed. And you have to play the game to save your foothold, call it by any epithet you like, but that is not going to make my bills smell bad!
And you want to know more about this sordid affair?

Here is the first hand account of the happenings from Monsieur François Bancilhon, CEO of Mandriva himself!
Microsoft (read Windows) is something that almost everyone loves to hate! Microsoft-bashing is the pet pastime in the Geekosphere especially amongst the Open Source aficionados and Free Software evangelists!
And it is the butt of jokes that make rounds around the internet as many times as the earth spins around itself!
But even the blogs that predominantly dwell on Microsoft's applications like .NET, c# etc seem to have joined the fray, as found in one such blog's masthead:

And it is the butt of college humor ad nauseum!
Here is a couple of videos for passing your time (but don't forget to genuflect before the Redmond God!) :-

Here are some "snafus" and intentional monkeying by the ultimate boogeyman of computer world, Microsoft of Windows, as reported by Robert X. Cringely in his latest column:
Windows Update automatically installed Windows Desktop Search 3.01 on systems that had been configured not to run the resource-hogging application. Microsoft's response? "Oops, sorry."
The forced update has caused many users' systems to suffer an involuntary reboot earlier this month. The culprit? Windows Live OneCare, which automatically changes your Update options to be automatic even if you had disabled it.
The vulnerability that allows a malicious PDF file to turn your PC into a zombie is yet to be fixed, even after three months. a patch is still coming!
And do you really wanna play around with next (Scoop! Don't you reveal this to anyone!) Windows Really Good Edition?
Then Click Here!
Here is how BOB concludes the story:
The ugly truth is that Microsoft is using security fears to force its enslaved base (that would be you and me) into installing stuff it wants us to have. Somebody needs to put a stake through its heart, before it kills again.
The moral of the story is:

Go Ubuntu, oh, Ubuntu!!
"Smart, Secure and Easy!"
Are you an "Upgrade freak", itching to bung in the "latest" apps and brag about it to your buddies?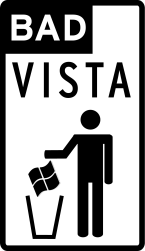 Stop to think for a while. Consider the fate of those suckers who went ga-ga about Windows Vista and ended up shredding the Vista CD and reverting quietly to Good ol' XP. (Psst…. Microsoft has finally got the hint, to wit, realized that Vista is a fiasco and is quietly providing upgrades to XP.)
Do not rush to upgrade to latest versions of proggies, before they are fully tested and proven to be bug-free. Think, why should you be the fall guy to be straddled with a buggy trashcan!
Now the same message through a video!

YouTube - Watch - Vista Sucks!

Read PCWorld's crotchety columnist Steve Bass and his compatriots' wise words on why they're loathe to upgrade their favorite apps.