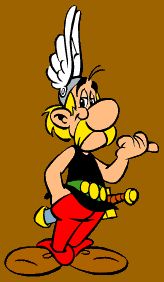 The indomitable Gauls never fail to tickle even the most sombre and melancholy moron of the species. They have fans across all age groups. I know of so many who had been raised on Asterix comics along with cereals and carrots.
Uderzo (78), the illustrator has carried on the mantle even after the passing away of the author of the series, Rene Goscinny, a fellow Belgian, in 1977. I was amazed to know that Uderzo is colour-blind!
The 32 Asterix titles have together sold more than 300 million copies and it is a record of sorts.
Now the 33rd adventure ("Asterix and the falling sky") is being launched and is soon to hit the stands.
But one needs a bit of a grey matter in the upper echelons of the anatomy to read and enjoy the nuances of the wit in every teensy aspect of the Asterix comics. Every bit – including the naming of characters has a tinge of intelligent and subtle humour packed in.
Well, let us brace ourselves for a fresh bout of laugh riot from the duo – the dimunitive warrior and the "not-fat-but-just-well-covered" simpleton (not to speak of the environmenatlist doglet!).