Sex workers oppose proposal to punish men who visit them.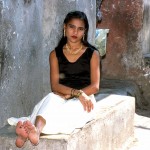 DOLLY NANDI-lovingly called Tuktuki – is content with her job as a sex worker. She believes there is no shame in "renting" her body for money "It is like giving your house for money It's my occupation and I love it," said Nandi. Thirty-five-year-old Nandi from Sonagachi – a red light area in West Bengal – is unhappy with the Women and Child Development Ministry's proposal to amend the Immoral Trafficking Prevention Act and punish men who visit sex workers.
Sex workers from across the country gathered in Delhi to protest the recommendation. "If men are punished from visiting us we will be jobless. How will we feed our children?" asked Anima Datta, a sex worker from Mumbai. "Don't we have the right to send our children to good colleges, give them quality education so that their lives are comfortable," asked Anita Kayal, a 40-year-old sex worker from Bihar "We work for our children and if they can't reap the benefits what use is our earning?" she said. This is not the first time the ministry and sex workers are at loggerheads over the proposed amendments.
Sex workers have always demanded that flesh trade should get the sanction of law, and only then will it be accepted in society. "Instead of finding means of rehabilitation, the government in this way is putting added pressure on them. Sex workers feel the government is cheating them and is far from helping their cause," said Mahasweta Mukherjee, representing Darbar Mahila Samanwaya Committee, an NGO working for sex workers in West Bengal. The Bill was on top of the agenda among other concerns in a first-of-its-kind national festival for sex workers held in New Delhi. Sex workers NGOs and at-risk communities also gathered to talk about sexuality, rights and HIV risks etc.