Yes. And the initial run of the Linux-based 10,000 units have been sold out in Wal-Mart!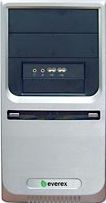 Everex's TC2502 gPC is the first mass-market $200 desktop PC. The spec of the system is very low – 1.5 GHz VIA C7 CPU embedded onto a Mini-ITX motherboard, 512MB of RAM and an 80GB hard drive – but this doesn't matter because the system does pretty much everything that your average PC users want.
It contains 10/100 Mbps ethernet and is pre-installed with OpenOffice 2.2. With the gPC you can surf the web, send and receive email, work with word processor and spreadsheet documents, chat with friends, keep a blog updated, edit photos and pictures, play DVD's and even burn CDs thanks to the built-in CD burner.
One intelligent user has installed FreeNAS and turned the gPC into a highly affordable, quiet, energy-efficient home server! He has found it compatible with FreeNAS right out of the box: all of the integrated hardware is supported, and the BIOS will boot from a thumbdrive (so you can install the FreeNAS OS on the thumbdrive). In addition, the motherboard has two SATA 150 headers, so you have very respectable hard drive upgrade options.
The net outcome of the success of this PC is that Linux is making a definite headway into the PC market. Adrian of ZDNet sums up like this:-
Maybe a more relevant question is not whether Linux has found a niche, but whether Windows has outgrown the average user?