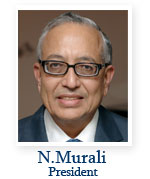 Wanna keep updated about the happenings in the abode of "Mount Road Maha Vishnu"?
Bookmark this blog and visit as often (in between IPL matches), since things are happening at a fast pace!
http://savethehindu.blogspot.com/
And it is really heartening to have a glimpse of Mr. N.Murali, President of the very Mecca of Carnatic Music, The Music Academy and (Sr.) managing Director of The Hindu (actually, rabidly anti-Hindu!)
It is very much ironical that he is being blacked out in the very newspaper which he heads!
Photos taken at a Resort in Kodagu (Coorg) in Karnataka on the Deepavali day.

Kodagu, Kanataka

13 photos

Acadia National Park, Maine, US is a favorite vacation destination. The views are spectacular. The landscape is pristine. And, the wildlife is plentiful and protected. As a result, Acadia National Park is one of the most visited national parks in the United States. Bar Harbor, a small coastal resort town on Mount Desert Island has a special ambiance blended with Downeast character. The sunrise is a spectacle that you shouldn't miss.

Acadia, Maine, US

84 photos

Views from the water cavern and wildlife park at Penn's Cave in the state of Pennsylvania, US. Scintillating scenes of stalactites and stalagmites dancing before you above the water..!

Penns Cave, Pennsylvania

100 photos

B.R.Hills in Karnataka

B.R.Hills, Karnataka

27 photos

These are views of a small village near Vaitheeswaran Koil called Melanallur, where my friend Mr. Balaji Shankar is doing organic farming.

Melanallur, Nagapattinam District, Tamil Nadu, India

21 photos

Photos taken during a visit to the Bara Chuki and Gagan Chuki falls, where the river Cauvery undulates over the rocks and falls in different directions, thus rendering a mystic cascade which is a photographers' delight!

Mysore

21 photos

Kodikkarai is Point Calimere on the southern tip pointing to Sri Lanka, in the state of Tamil Nadu, India.

Kodiyakkarai, Tamil Nadu, India

13 photos

Nimishambal temple is situated on the banks of one of the braches of Cauvery that encircles the SriRangapattana island near Mysore. The temple and the views of rural Karnataka that surrounds it vividly portrays the innocent villagers in their natural habitat

Srirangapattana, Mysore, India

40 photos

Photos taken during a visit to Mysore city.

Mysore, Karnataka, India

16 photos

Clicked from my house balcony. Amateurish stuff. Perhaps an abject lesson on how not to shoot with your camera!

Pycrofts Garden, Nungambakkam, Chennai, India

40 photos

Photos taken during my visit to temples at Keevalur, Sikkil, Vaitheeswaran Koil in Tamil Nadu.

Tamil Nadu, India

15 photos

Keshav Perumal temple at Somnathpur, near Mysore was built in Hoysala style of architecture with intricate carvings on stone panels, by Somnath, a minister under King Naarasimha III, in 13th century. It is maintained by Archaeological department of Government of India. No puja is conducted in this temple since it is deemed as a historic monument alone.

Somnathapura, Mysore, Karnataka, India

131 photos
Yes. It is adieus to The (non)Hindu!
The time has come to part with an association which had assumed a second nature for me. The typical morning routine of a steaming cup of "ticoction" coffee in one hand and the The Hindu on the other. But it is all history.
There was a time The Hindu represented everything that was representative of educated middle class culture in Tamil Nadu. The completeness of the information, the classy and impeccable English (many of the past generation had averred that they got autodidacted with the English language solely by reading The Hindu), uniqueness of authentic reporting, earnestness of the delivery and clear identity with the south Indian culture and tradition. But all this is past glory.
The Hindu, especially after its take-over by the current management, has undergone a total shift from its traditions for which it has acquired a loyal clientèle built assiduously over a century plus. To be precise, it has let down the loyalists by converting the newspaper almost like an official mouthpiece of the Communist Party of India (Marxist), if the recent front-page coverage given to the party's conference is any indication.
In addition to the major shift in allegiance from the centrism to partisan, the quality also had gone down considerably. Inaccurate reporting galore, prompting the paper to dedicate a big column for publishing corrections. The language too deteriorated considerably. There was nothing left except the name. And name, God, "Hindu" is a misnomer, with the reporting slant being consistently anti-hindu.
WEll, Times of India has launched its Chennai edition and has hit my doorway today. Let me see how it fares.
Charles Darwin averred, "False facts are highly injurious to the progress of science for they often endure long".
This is true of history too, in which case they endure longer with the active patronage of rulers and various other kinds of powerful lobbies. This phenomenon is more pronounced in countries like India, where politics of twisting history (and just everything) to humour committed vote banks is a cottage industry!
A case in point is the canard that the famous Taj Mahal was a structure devoted to carnal love by the "Great" Moghul king Shah Jahan to his favorite wife Mumtaz Mahal. Please keep in my mind that this is the same Shah Jahan who had a harem of 5,000 women and the same Shah Jahan who had a incestuous relationship with his daughter justifing it by saying, "a gardner has every right to taste the fruit he has planted"! Is such a person even capable of imagining such a wondrous structure as the Taj Mahal let alone be the architect of it?
The answer is an emphatic NO. It just cannot be. And there isn't even an iota of proof for that "official version". The Taj Mahal is as much a Islamic structure as is mathematics a Muslim discovery! The famous historian Shri P.N. Oak has proven that Taj Mahal is actually "Tejo Mahalaya", a Shiva temple-palace. His work was published in 1965 in the book, "Taj Mahal – The True Story". However, we have not heard much about it because it was banned by the powers that be who did not want to alienate their precious vote bank- the Muslims.
You may like to know more about this from this web site.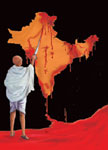 Here is a different point of view, far removed from what has been drummed into our ears over the whole generation!
Jinna was earlier a proponent of Nationalism. He was a supporter of Lokamanya Tilak and even accepted Namdar Gokhale as his Guru.
Jinna wanted to bring the muslims into the modern mainstream society minus their fundamentalist ideology. For the same he took the lead in Lucknow pact of 1916.
In 1920 Jinna was the only Nationalist Muslim who opposed the Khilafat Movement
Gandhi did not give the leadership of Muslim League to Jinna who was senior to even Gandhi himself; instead he made Mohammed Ali
Jinna who was angered therefore demanded Pakistan in 1940.
I don't know how much of it is true, but nevertheless it makes an interesting reading.
A detailed essay on this subject and on why Mohandas Gandhi was killed can be found here.

Read more on the real side of the much-adulated icon and a false hero of India in the web site of Hindu Janajagruti Samiti.
For some strange reason, the web site of Hindu Janajagruti Samiti has removed this web page on Nehru. It was a spicy page with lots of interesting (!) stories on Nehru, his doings and family genealogy!
Here is an excerpt from the archived page:
Indira Gandhi? No… 'Maimuna Begum'!

Indira Gandhi's real name was 'Maimuna Begum'. She lived like a Muslim all her life. The Sultan of Saudi Arabia had invited her to Mecca. It is noteworthy that only Muslims are allowed to visit Mecca. She once told Shri. M.O. Mathai, the personal secretary of Nehru, her father, 'I hate Hindus. I will never marry a Hindu.' – (Ref.: swordoftruth.com)

Not 'Indira Feroze Gandhi', 'Indira Feroze Khan' !

Feroze Gandhi is considered a Parsi because his mother was a Parsi before her marriage to his Muslim father Nawab Khan; but since she converted to Islam before her marriage, their son Feroze Khan is a Muslim and not a Parsi by birth. This was the reason why Kamala Nehru opposed Indira's marriage to him.

Despite a Muslim wedding (nikah) with Feroze in a London Masjid, a fake picture of their marriage in Vedic style was published to fool the Indians !
Is devil the sine qua non of God's existence?
You can't make a hero without a villain. It is the villain who makes a hero. There will be nothing called good if there is nothing bad. It is like saying if everyone is vaccinated, you don't need one.
This kind of dichotomy is the fundamental cornerstone of the universe. There is no white if there is no black, no light if no darkness, no heaven if no hell, no virtue if no vice, no "punya" (= good deed – "Mitzvah") without sin. So in effect, both are complementary to each other. Each depends on the other for its very existence, rather symbiotic. That is the reason why the evil is portrayed to be as powerful, if not more, as the God(s) in all mythologies and religions, ancient or new!
In Christianity, God and the Devil (aka Satan, aka Lucifer) are usually depicted to be perennially fighting to exercise control over the souls of humans, with the Devil seeking to lure people away from God and into Sheol. The Devil commands a force of lesser evil spirits, commonly known as demons.
In Islam the Devil is referred to as Iblis or "Shaitan". According to the Qur'an, God (called "Allah" in Arabic) created the Satan out of "smokeless fire", while He created man out of clay. The primary characteristic of the Devil, besides hubris, is that he has no power other than the power to cast evil suggestions into the heart of men and women. Fundamentally Islam holds its believers in a tight leash by constantly harping on the threat of Shaitan's influence on their lives (as well as afterlife), if you do not conform strictly to the tenets. That way, and through other blandishments like 72 of the choicest and full-breasted virgins soaked in copious flow of wine in heaven, Islam turns even doctors of medicine into human bombs ("Fidayeen" terrorists), ready to sacrifice their precious lives to annihilate "kafirs" meaning non-Muslims!
Read more
Narendra Modi is the leader nonpareil of India, who is a growth-oriented, no-nonsense, down to earth realist and a true patriot. If only we have more of his genre!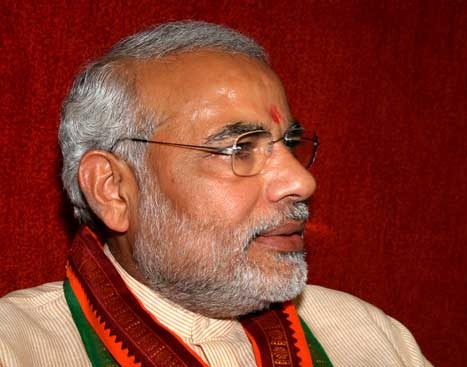 Visit Modi's Personal Website!
Barbarindian reports:
Ah the unbounded joys of secularism and socialism.

Meanwhile:

we are importing wheat in large quantities
at a much higher price compared to domestic farmers
massive loot going on within the PDS system
fake currency has flooded the country
industrial growth is slowing down
no clear policy direction for growth in the face of rising rupee
no significant progress in infrastructure projects
our cities are bursting at the seams
our children go hungry
we have many intellectuals and rational people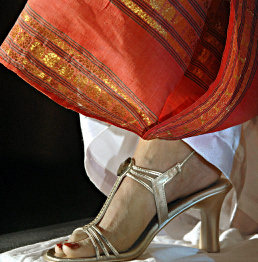 As mentioned by me in an earlier posting, female feet and toes tickle many a male into ecstasy. There are many foot-fetishers, one of the famous one being the Hollywood director Quentin Tarantino. But fetish or no fetish, none can deny that there is enough beauty in a female foot as in any other curve of the fairer sex! The foot shown above bears ample testimony to this unassailable fact!
(Photo courtesy: The Hindu)
Please have a look at the way the "famous" painter M.F.Hussain has chosen to denigrate the Hindu Gods being worshiped by a vast majority if Indian population. And the double standards applied by him in fully clothing Mother Teresa and a Muslim king, but depicting only Hindu gods naked betrays his perverse approach, emboldened by the support given by pseudo-secularists of India.

YouTube - Watch - Hussain mocking Hindu Gods!

Compare this to the furore created when a few cartoons showing Prophet Mohammed appeared in a Danish newspaper.
And to top it all, he is going to be awarded with Raja Ravi Varma Award by the Government of Kerala!
Yoohoo, self-respecting Hindus, please wake up from your Hypersomnia!
To know more about this sordid episode and to sign an on-line petition against this kind of derogatory depiction, please visit the Hindu Jajgriti Samiti Website. You can also view the divine paintings of Raja Ravi Varma, and the naked renderings of "superior art" by perverse Hussain juxtaposed for your perception!
"Love blossomed" between a "lonely" Jawaharlal Nehru, the first prime minister of India, and the last Viceroy of India Lord Mountbatten's wife, Edwina, who had other "lovers" before, says her daughter.
Pamela Mountbatten, who fondly called Nehru "Mamu" (maternal uncle), has used diary entries and extracts from family albums as documentary evidence to write India Remembered: A Personal Account of the Mountbattens During the Transfer of Power.
In a section titled "A Special Relationship" Pamela writes: "My mother had already had lovers. My father was inured to it. It broke his heart the first time, but it was somehow different with Nehru. There existed a "happy three-some" based on firm understanding on all sides"
You can read a pre-release review in The Hindu here.