Heartening to see N.Murali, despite The Hindu!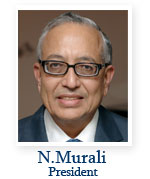 Wanna keep updated about the happenings in the abode of "Mount Road Maha Vishnu"?
Bookmark this blog and visit as often (in between IPL matches), since things are happening at a fast pace!
http://savethehindu.blogspot.com/
And it is really heartening to have a glimpse of Mr. N.Murali, President of the very Mecca of Carnatic Music, The Music Academy and (Sr.) managing Director of The Hindu (actually, rabidly anti-Hindu!)
It is very much ironical that he is being blacked out in the very newspaper which he heads!
Award by Cleveland Thyagaraja Aradhana