A fresh look at Gandhi and Jinna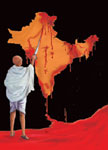 Here is a different point of view, far removed from what has been drummed into our ears over the whole generation!
Jinna was earlier a proponent of Nationalism. He was a supporter of Lokamanya Tilak and even accepted Namdar Gokhale as his Guru.
Jinna wanted to bring the muslims into the modern mainstream society minus their fundamentalist ideology. For the same he took the lead in Lucknow pact of 1916.
In 1920 Jinna was the only Nationalist Muslim who opposed the Khilafat Movement
Gandhi did not give the leadership of Muslim League to Jinna who was senior to even Gandhi himself; instead he made Mohammed Ali
Jinna who was angered therefore demanded Pakistan in 1940.
I don't know how much of it is true, but nevertheless it makes an interesting reading.
A detailed essay on this subject and on why Mohandas Gandhi was killed can be found here.