Curvaceous Gina Lollobrigida
The theme music of the romantic comedy of yesteryears, "Come September" has been lingering in my ears bringing forth the reminiscences of the Jukebox prominently placed in the Gupta's States Hotel on the Luz Corner (in Mylapore, Chennai, India) wherein I used to bung in a 25 paise coin to listen to that evergreen melody composed by Bobby Darin. But what is more remarkable about that movie is the svelte hourglass figure, sultry face with triangular chin, bewitching smile – who can forget the timeless beauty of Gina (Luigina) Lollobrigida!
This is how to pronounce her name: Pronunciation of Gina Lollobrigida


A sex icon of the tinsel world of 1950s and 60s, the Italian actress Gina Lollobrigida appeared in an average of two movies a year in her prime. Her score is more than 60 American, Italian and French films. Her earthy look and short tousled hairdo were so popular that she earned the nickname "La Lollo" meaning 'beautiful breasts' in French! They were so crazy after her that they went to the extent of naming a curly lettuce as "Lollo". No, they didn't stop with it. The French? Yes. They even coined a word "lollobrigidienne" and added it to the French dictionary to mean "curvaceous". Her alluring beauty made Playboy magazine to rank her as no. 20 on the list of the "100 Sexiest Stars of the Century".
Gina Lollobrigida was born in 1927 in the mountain village of Subiaco, about 50 miles southeast of Rome. She came from a working-class family and grew up during the time of Mussolini and the World War II. After studying painting and sculpting in school, Gina began walking on the ramps and finished 3rd in the "Miss Italy" competition of 1947. Her film career started with Italian films. She emerged on the Hollywood scene in 1953 in the John Huston film "Beat the Devil." In 1955 Lollobrigida appeared in the movie titled, "The World's Most Beautiful Woman" (which she truly was!), for which she received the Best Actress award. Her 1961 film "Come September" won the Golden Globe as the World's Film Favorite. And here I come to the nub of this article!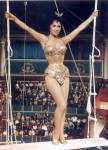 Come September
is a very light comedy and it would give a feeling of reading a P.G.Wodehouse novel, peppered with with a generous dose of unexpected twists and turns and comic events! In the end, the actor whose performance makes a lingering impression in your mind is that of Walter Slezak who as the sneaky majordomo Maurice secretly misappropriated the owner's (Rock Hudson, the hero) villa as a hotel, and also has the temerity to persist in doing so even after being caught red-handed! His role reminds me of the wily "Avinasi" in Kamal Hasan's Tamil blockbuster, "Michael Madana Kamarajan", superbly portrayed by the inimitable Nagesh.
But that doesn't let your mind wander away from savoring the exquisite beauty of Gina Lollobrigida!
Rock Hudson - " Dancing " - 3/4
As an end note let me provide a post-film life sketch of the actress by stating that Gina pursued her passions as a singer, sculptor, painter and photographer and is still going strong.
A woman at 20 is like ice, at 30 she is warm and at 40 she is hot.
~ Gina Lollobrigida
In the 1970s, Gina's film career slowed (not until 1984 when she appeared again as an actress-on the American television series "Falcon Crest"). But she immersed herself in other passions. As a photographer, she traveled the world and captured images of Paul Newman, Salvador DaIi and the German national soccer team. A collection of her work, Italia Mia, was published in 1973. In 1975 she directed the documentary, "Portrait of Fidel Castro", and also made a film of life in the Philippines. As a sculptor, she created works like "My Friend Liza Minnelli" and "My Friend Marilyn Monroe". She also became a corporate executive for fashion and cosmetic companies. In 1993 France awarded her the "Legion of Honor" for her artistic achievements and for her humanitarian work with UNICEF and other organizations.