Rio Bravo a Musical Western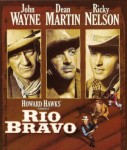 I was lucky to stumble upon this wonderful western while zapping through different genre of movies in Netflix. I am awfully happy I did. It had the real pros. Yes, John Wayne and Dean Martin – could you ask for more! But that doesn't diminish the role of the handsome Ricky Nelson (Boy, can't he easily pass off as Elvis Presley if he rocks a bit while singing..!).
Yes, I am talking about "Rio Bravo" (USA 1959), a archetypal Western with John Wayne, rifle, pony and works!
It is one of the best Westerns that you could watch. It has romance, emotion, valour, comedy, pathos, music and the staple guns! And it is not a superman movie – the storyline is full of imponderables and odds.
Here are a couple of songs from the movie. I love them. You have missed something if you hadn't seen the movie.
RIO BRAVO My Rifle, My Pony, and Me/Cindy - Dean Martin, Ricky Nelson and Walter Brennan (legendado)
And here are the lyrics of both the songs:

1.

The sun is sinking in the west
The cattle go down to the stream
The redwing settles in the nest
It's time for a cowboy to dream
Purple light in the canyons
That's where I long to be
With my three good companions
Just my rifle, pony and me
Gonna hang (gonna hang) my sombrero (my sombrero)
On the limb (On the limb) of a tree (of a tree)
Comin' home (Comin' home) sweetheart darlin' (sweetheart darlin')
Just my rifle, pony and me
Just my rifle, my pony and me
(Whippoorwill in the willow)
(Sings a sweet melody)
(Riding to Amarillo)
Just my rifle, pony and me
No more cows (No more cows) to be ropin' (to be ropin')
No more strays will I see
'Round the bend ('round the bend) she'll be waitin' (she'll be
waitin')
For my rifle, pony and me
For my rifle, my pony and me
==
2.
I wish I was a apple hangin' in a tree
And everytime my sweetheart passed
She'd take a bite off me
She told me that she loved me
She called me sugar plum
She threw her arms around me
I thought my time had come
Get along home, Cindy-Cindy
Get along home, Cindy-Cindy
Get along home, Cindy-Cindy
I'll marry you sometime
I wish I had a needle
As fine as I could sew
I'd sew her in my pocket
And down the road I go
Cindy hugged and kissed me
She wrung her hands and cried
Swore I was the prettiest thing
That ever lived or died
Get along home, Cindy-Cindy
Get along home, Cindy-Cindy
Get along home, Cindy-Cindy
I'll marry you sometime