Elegant and charming Audrey Hepburn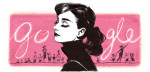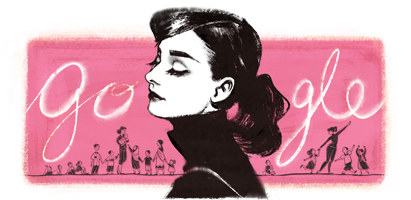 Yesterday (2014-05-04) would have been 85th birthday of Audrey Hepburn, the Belgian-born British actress. In spite of such negative attributes as being tall, lanky, skinny and wistful, she won the hearts of fans by her supremely elegant and attractive personality! The Google, in its characteristic style has paid tributes to her memory by displaying a doodle depicting Hepburn in its masthead.
IMDB sketches her profile thus:
In contrast to the "sex goddesses" of the silver screen, Audrey Hepburn had a more wholesome beauty and an aura of innocence and class about her which gained her many devoted fans.
Who can forget her appearances in "Roman Holiday", "Love in Afternoon" and the delightful film, "Breakfast at Tiffany's"! In fact it was Marilyn Monroe who was tipped to be the heroine in the romantic comedy drama, "Breakfast at Tiffany's", but Audrey Hepburn won that role by sheer acting talent. When the movie with a 'Cinderella' type of story was released in 1961, Audrey Hepburn was hailed as the embodiment of the chic, liberated, modern woman.
Nobody else could have portrayed the smooth and seamless metamorphosis of personality from that of a rustic flower girl to a genteel princess (might have been) in the classic, "My Fair Lady" than the supremely talented Audrey Hepburn!
Watch this song and enjoy the company of the inimitable Audrey Hepburn!
Wouldn't It Be Loverly - My Fair Lady