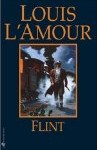 This is a pithy observation by Louis L'Amour in his "Flint
":
"Don't trust anybody. To trust is a weakness. It ain't necessary that folks are bad; but they are weak or afrid. Be strong. Be your own man. Go your own way."
This is the advice of a man who was living dangerously in a totally belligerent surroundings to his young son, egging him to fight and survive in adversity.
It amply holds to good to our everyday life too, isn't it!