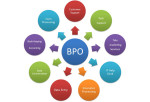 You all know about BPO (Business Process Outsourcing), wherein non-critical processes of a business are got done by outside agencies so that the main enterprise can concentrate on their core competencies and also derive the price advantage of getting things done by others. In the first phase only labour-intensive and low-end processes are getting outsourced mostly to countries in Asia, South America and East Europe where the wage structure is low compared to the west (as well as Japan). This includes knowledge workers also who code software programs, populate databases, transcribe medical mumbo-jumbo etc. But when this business model gets matured, high-end processes may also start flowing offshore thus ushering in an era of virtual employment to a sizeable working population on the globe!
Now I am going to talk about another cousin of BPO that has entered the frey. It is called RPO, an acronym for Residential Process Outsourcing. What with folks becoming lazier by the week, busy through the day doing nothing worthwhile, we have started feeling the need for a third party to do our regular chores. Though every other man who matters farts through his mouth about "paperless office", "single window system", transparency in functioning and simplification of procedures, you still find that nothing much has changed and you are still straddled with form-filling, vouchers, challans, queues and due dates! To relieve you of all these hassles and leave your hands free to indulge in more strategic functions like scrtaching the hidden parts of your body nonchalantly, some innovative folks have come up with this line of business.
They pay your bills on time, attend to children's school fees, community certificates, unresolved issues with electricity boards, municipal corporations, water boards and their distant cousins which proliferate like mushrooms on a rainy day. They deputise you in any queue, be it for a blockbuster in a cinema where you are forced to go since its pirated version is wholly out of sync and your favourite stars show themselves as fuzzy Khans and hazy Rais. The RPO also fixes domestic help for you when your your dear wife gets fed up with feeding the family alone. They will also engage a cook for your daughter's ear boring ceremony or puberty function!
But you have to pay for the RPO service since they are not members of the holy FOSS crowd who offer things open and free – but they may put in a "paypal" icon on their web site entreating you to donate. (Poor guys. They are yet to come to terms with the realities of this thankless world, where there is nothing called Free Lunch.)
Anyway, RPO has come to stay and it is up to you to jump on the bandwagon.