Ergonomizing chair potatoes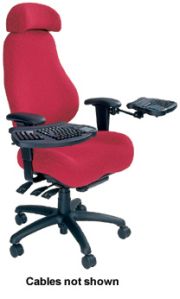 The IT revolution has made more and more humans getting glued to keybord+mouse+screen, unergonomically perched in a non-back-supporting posture. Such continuous misuse of spinal column and carpal tunnel, make the nerds vulnerable to various new age ailments like RSI's other buzzy strains.
To solve all such issues, Kinesis has introduced an Evolution Chair-Mount Keyboard (Fully Adjustable). But Matt feels he may be shunned from the non-geeky community if he is found in the company of this contraption. I personally feel that Matt being an accepted "supergeek", he need not worry much about it!
Here is an intro from their website:
The Evolution Chair-Mount fully adjustable keyboard focuses on reducing the biomechanical stresses on the hands, wrists, neck and back that are the major cause of repetitive motion injuries in the workplace.
It claims many features for comfort as well as productivity.
But do not blame me if you are put off by the $$ sign over there! 🙂