Raga Kappal Ragamalika by Mambalam Sisters
Here is another one (as a Proof of Concept!).
This piece of Carnatic Music in Thamizh (Tamil) is set in 26 Ragas with the names of ragas voiced as part of the lyric.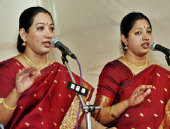 "Odam" (Boat) is a Ragamalika of 26 Ragas string like a diamond necklace, rendered by Mambalam Sisters with their sweet voice.
This piece of carnatic music is provided purely for enabling appreciation of carnatic music.
Enjoy!