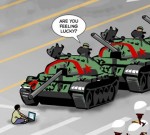 This story on Google censorship on its China-based search engine brings out instances of some weird filtering.
The term "sex" is filtered out, so is Essex.com (or, essex.co.uk)!
No search results are available for Chinese, of booze, sex, gay, fun, falun, beer, jokes, anti and innumerable other terms, as per the whims of whoever administers the censorship.
Don't be evil!