The story in single line: I lost my Gmail account!

I wake up one morning last week and I could not log on. Simple. Typed and retyped the latest password as I remembered it. Normally I make the browser retain it for a few days. I cross-checked the correctness of the password with what I had scribbled in my scrapbook. It was right, but not good enough for an open sesame! Wait, was it the one that lay tattooed between my toes? Tried that too. But no joy!
What about "Forgot Password" routine? Wait man, why hurry? Read on!
Big deal? Yes. Because my Gmail account is linked to the whole load of components of the Google suite which I use for two reasons:
they are good and efficient and
they are Free! 🙂
And to list the the bundle of services:
Google Adsense – by far the most important one although I am yet to hit pay dirt!
Picasaweb – where my entire photo collection resides – spent many a midnight oil to upload what with <30 kbps Broad (read "Fraud") band connection – but why do they call it 256 kbps? That is another story. Don't digress!
Google Notebook – where I have Ctrl+C-ed and Ctrl+V-ed all important snippets of information scraped from many a website for future use as a comprehensive plagiarized resource on various subjects planned to be shared albsolutely free with the community ( I believe in everything Free – as in Free Lunch!)
Blogger account that facilitates spraying my comments profusely in Blogspot-run blogs without much ado
Groups I run and participate – what would I do without indulging in a daily dose of flame wars in those groups. Folks would miss me over there. After office politics, email groups satiate my innate propensity towards scandal and polemics
Docs and spreadsheets – where I have kept most of my collaborative work
Knol
App engine
Analytics
Reader
Sites
Youtube videos
Many eCommerce sites where this particular Gmail Id is the username
Plus over 9000+ email messages ("Conversations" in Gmail parlance!) that have been tucked away for keeps bearing testimony for my faculty of procrastination (Why, it is still only 25% of the total space so generously allotted by Gmail. Why do you grumble!). Some day I'll read them all, Promise! (Not the viagra stuff, anyway)
Perils of a "single sign-on" facility – laziness has its own risks!
You agree then that I had a problem at hand. I had to somehow get back the Gmail account in tact. My whole digital life depends on it. Rather the well being of the posterity is pivoted on it. So the society has a responsibility in getting it restored to the rightful owner.
Ok. That is settled. Now to the nitty-grtties. I clicked the link tauntingly asking you "Can't access your account?", like anybody wise enough to lose one's Gmail account would do.
I correctly keyed in my username which was very clever of me to remember. It was actually a nickname which my classmates used liberally to ridicule me. I specifically selected it since I could never forget the stigma attached to the word. Then it led me to a Captcha routine which I passed, though they resembled the snarled hieroglyphic charts that the doctors used for testing color blindness.
Then to my horror, I was asked to answer a secret question which even in my wildest dream would not have selected in the first place. It asks "Who was your first girl friend?" No fears! Danger indeed. Someone has hacked (or, cracked/) into my Gmail account. Someone who is up to no good. Sure thing. I have to do something about it pronto.
So on the next page I selected the radio button against "My account has been compromised" which in my opinion amply reflected the reality.
Then comes the "nub", as good ol' P.G. Wodehouse would exclaim.
I had to undergo a form-filling ritual answering questions that call for data on the very genesis of the impugned Gmail account. Yes. Right from its date of birth.
Here is the screenshot of the obstacle race arena: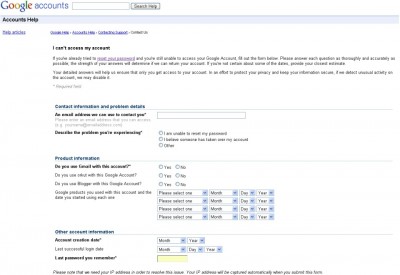 I couldn't recapitulate any historical data about my Gmail account. But I tried to rack my brains – both hemispheres alternately, but to no avail. But as a man who is wordly wise, I filled all the form elements with the best available dat and submitted.
Pat came the reply with 24 hours deeply regretting and profusely apologizing for their inability to return my account they were unable to verify that I own this account based on the information I provided and that Google had completed their investigation. But the Google team provided me another chance to submit the information called for.
Fair enough.
I thought I have to be serious and do something to drill deep into the recess of my neuronic network as well as the gazillions of files stored in the various partitions and folders of my hard disk(s) – both internal and external.
My, my! Did it not call for real work!
But in the end it was Eureka! I could dig out an old email sent by a friend inviting me to Gmail some light years back That was the day my Gmail account was born. The precious email message was ensconced in the good ol' Outlook express which I had divorced ages ago before I got admitted into the exclusive Geek's club! Anything to do with the "Evil Empire" was a taboo!
And rest was very easy. I could furnish the email IDs that frequently send mails to and all such stuff with ease.
And believe me and have faith in the veritable cyber God, the Google that they are efficient, they are considerate and they are empathetic.
Bingo! I got a reply within a span of 12 hours restoring my Gmail account with all its limbs in tact. No damage done.
Thanks to the good folks in Google. But the episode has taught me a lesson.
The moral of the story is this:
Keep a record of the date of opening of your Gmail account
Jot down the email IDs of people to whom you send emails frequently
Give an alternate email address in another server to the Gmail settings and write down that address
Update the secret question which you can easily remember and also write it down somewhere
Change your password and make it difficult to guess
Now over to Gmail Utopia!