Inflation in astronomical proportions!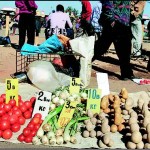 India is currently experiencing double-digit inflation. The pundits are busy with their verbal breaking wind as to how the economy is doomed and the common man is made to more than the situation demands, with the current rate of inflation hovering around 11%.
But Indians can breathe with equanimity and draw solace from the fact that India is not Zimbabwe. No, I am not referring to Robert Mugabe. Something more serious than that!
Read this Times of India News:
Zimbabwe to introduce 100 bn Dollar bank note

Central Bank Governor Says Inflation In The Nation Has Crossed 2.2 Million %

Harare: Zimbabwe's central bank will introduce new higher-value 100 billion Zimbabwe dollar notes on Monday as part of a desperate fight against spiralling hyper inflation, the bank said.
Zimbabweans are suffering chronic shortages of meat, maize, fuel and other basic commodities due to the collapse of the once prosperous economy, which critics blame on president Robert Mugabe's policies, including his violent seizure of white-owned farms.
Central bank governor Gideon Gono announced that inflation had surpassed 2.2 million %, though some economists put it much higher.
In a notice in the official Herald newspaper on Saturday, Gono said the Reserve Bank of Zimbabwe would introduce 100 billion dollar special agro-cheques (notes), to help consumers who currently need to carry large wads of cash even for simple transactions.
"This new $100 billion special agro-cheque will go into circulation on Monday," the notice said. The central bank has been printing higher denomination bank notes to keep pace with soaring prices. The most valuable bank note currently in circulation is worth Z$50 billion. Gono said he was also considering raising the amount of cash people could withdraw daily from their bank accounts.
The central bank has imposed a withdrawal limit of Z$100 billion, but this is only enough for two trips on an urban commuter bus or two loaves of bread — if one can find it. The Zimbabwe dollar, which had been officially pegged at 30,000 to the US dollar before exchange rules were relaxed recently, now trades at about 800 million to the greenback.
Besides struggling with shortages of basic goods and services, Zimbabweans also spend long hours in bank queues trying to withdraw their money. The central bank says the limits on cash withdrawals are designed to curtail a thriving black market in foreign exchange and basic commodities.
The worsening economy could add to pressure on the ruling ZANU-PF party to make concessions to the opposition Movement for Democratic Change, which has refused to recognise Mugabe's overwhelming victory in a June 27 presidential runoff election.
MDC leader Morgan Tsvangirai won the first round vote on March 29 but failed to get the absolute majority needed to avoid a second ballot.
Tsvangirai pulled out of that poll, citing violence by pro-Mugabe militia. Two weeks ago a German firm, Giesecke and Devrient, stopped deliveries of banknote paper to Zimbabwe following pressure from the German government amid international criticism of Mugabe's widely condemned reelection. Gono said Zimbabwe had made alternative arrangements. REUTERS