Latest is not always the best!
Are you an "Upgrade freak", itching to bung in the "latest" apps and brag about it to your buddies?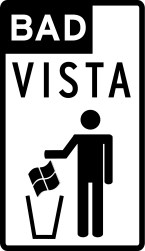 Stop to think for a while. Consider the fate of those suckers who went ga-ga about Windows Vista and ended up shredding the Vista CD and reverting quietly to Good ol' XP. (Psst…. Microsoft has finally got the hint, to wit, realized that Vista is a fiasco and is quietly providing upgrades to XP.)
Do not rush to upgrade to latest versions of proggies, before they are fully tested and proven to be bug-free. Think, why should you be the fall guy to be straddled with a buggy trashcan!
Now the same message through a video!
Read PCWorld's crotchety columnist Steve Bass and his compatriots' wise words on why they're loathe to upgrade their favorite apps.