Narayana Murthy invents E-food!
N.R. Narayanana Murthy, C0-Founder, Chairman and Chief Mentor of Infosys and touted to be one the greatest brains that India has produced, has propounded an outlandish theory that "the need of the day is to move people away from agriculture to low-tech services and manufacturing".
What a bizarre notion! If you move people away from agriculture, who will produce rice, millet, pulses, vegetables and all that we need to eat to survive?
Perhaps Narayana Murthy will produce them in the swanky offices of Infosys situated in prime real estates of Bangalore!
Anyway look out for the booking date to get your bag of E-Rice!
Here is the excerpt from that path-breaking interview that appeared in Businessworld (4th May 2009):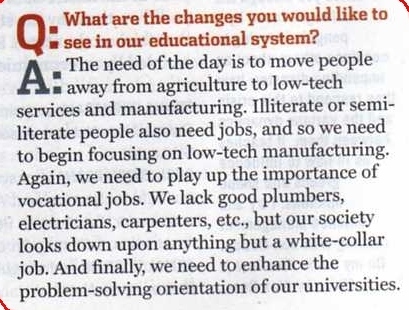 It is a lamentable fact that rural folk find it increasingly difficult to find young labourers willing to do work on the fields, since youth are lured towards glittery life in towns and cities as portrayed in films and TV shows. And Murthy adds his bit to the malady!