Internet telephony to open up in India
Yes. It is a dream come true for Indians!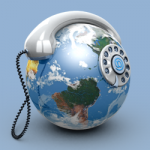 IP Telephony or internet telephony has long been expected to materialize in India in full flow so that cheap telephone calls to and from India become a reality. So far,there has been a restriction on calls through internet terminating in a local telephone service. Now that restriction has been removed by the Telecom Regulatory Authority of India (TRAI), the statutory governing body. In other words, it was PC to PC or Phone to PC in India; now it can be anything to plain old phone in India! So services like Vonage will become a reality in India too. And it will turn out to be a boon to the Non-resident Indians (NRIs) who are spending through their noses currently to keep in touch with their kin residing in India.
Here is the news as it appeared in IndiaTimes:
In a significant step that will have bearing on Indian telecom services and push the rates down further, Telecom regulator on Monday recommended complete opening up of Internet telephony.

The Internet service providers (ISPs) have been permitted to provide unrestricted Internet telephony which means they can terminate Internet telephony calls on PSTN (public switched telecom network) and vice-versa.

The Telecom Regulatory Authority of India has even allowed the national long distance (NLD) operators to connect to ISPs through public Internet (Internet cloud) for unrestricted Internet telephony. But for that to take place, ISPs and NLDs will have to thrash out mutual agreements for unrestricted Internet telephony, said TRAI.

The move will further boost competition in the domestic long distance segment and result in lower STD tariffs. The move will permit calls from personal computers to fixed line and mobile phones. Currently, a voice call can travel between two computers but not from a mobile or a fixed phone. This is expected to open huge channels of revenues for ISPs.

NLD shall make suitable commercial and technical arrangements with access providers i.e PSTN/PLMN (public land mobile network lines) for unrestricted Internet telephony said the regulator in a statement.
You can read the rest of the story here.