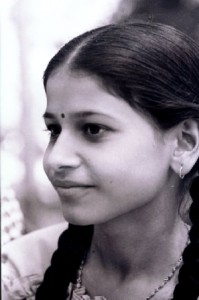 The human dichotomy, or the gender demography is no longer determined by biology, at least inIndia. Female infanticide is commonplace in many Indian villages and more specifically the teensy-weensy dwelling just beyond your backyard. There are some notorious villages in India which claim the dubious distinction of achieving record number of prenatal sex selection and abortion. Coming to numbers, the 2001 census of India showed the male-female ratio as 1000:933.
But what is your problem? Yes, imbalance. Too many boys chasing unmatched number of girls for marriage. Take the case of the urbanised, elitist Tam-Brams. Most of the eligible boys are busy tapping feverishly on computer keyboards (with little or no exercise, gathering a generous bit of mass around the part that comes into contact with the seat rexine). When the eminently eligible one seeks a suitable girl, using the algorithm of horoscopes (horror-scopes to many!), through matrimony dot coms, swayamvaras as well as the old faithful- newspaper classifieds, their parents find the tables squarely turned! Yes, it is no longer the boys' hegemony. "Brides wanted" outnumber the "Bridegrooms wanted" by 3 to 2. The girls' photographs are hard-to-get commodity (you need a password to steal a look at the nubile young things). The fairer sex has turned finicky and fastidious, thanks to the BPO's and consequent financial emancipation. And the pre-requisite for an alliance is an upfront assurance on the girl's career ambitions and premarital fiscal commitments. And do not forget the Anti-dowry act breathing down your neck. One wrong word, and you will find yourself in the "cooler", perched next to the seers and their siblings!
And you ring up and coo into the bride's parents' ears that the horoscopes match, but their royal astroger thinks otherwise. The nine planets squatting in the squares of your Rasi and Amsa tables (XHTML, anyone?) are all skewed and they are perceived to be of such wicked potential that they render the very "varan" unmarriageable!
The empire strikes back!
Hey, what happens? Why the brides' parents of this world act so coy?
Numbers, man. Numbers. Period.
Blame it on the indiscriminate ultrasound scans, amniocentesis, foeticide, one-child norm and dowry deaths aka gas cylinder bursts.
And the nincompoops preferred a son to the ever-faithful female of the species, the following wise words notwithstanding:
Son is a son till he gets a wife
But daughter is a daughter all your life.
And you still dare to quiz the doctor, " Should I buy pink or blue?"
Gender preferences, my foot!