Bianca Castefiore of Carnatic music
No. I am not referring to the renowned Milanese Nightingale, the preening, melodramatic diva with her trademark ear-splitting rendition of the Jewel Song!
Bianca Castafiore - The Jewel Song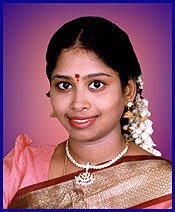 But I am talking about a highly accomplished and young Carnatic Music singer called NithyaSree Mahadevan.
She comes of a great music lineage and is blessed with a clear, full range and brigha-laden voice. But…
Yes, here comes the nub! She sings so well with felicity when crooning at lower notes, but at high pitch..! She makes one shudder with her piercing shrieks.
But don't get me wrong. I love to listen to her voice when she sings like this:
But not the strident and shrill shouts like this:
There are many carnatic music aficionados whose club mainly consists of tradition-oriented "மாமா"s who openly murmur "காட்டுக் கத்தல்" in the middle of her concerts!
Don't get me wrong. She commands a huge fan following. She is perhaps one of the 3 top billers in the music season – crowd-wise, and her film playback assignments and advertisement jingles have exploded her popularity by several times. The majority like her shouts and shrieks. What is your problem then?!
Earlier in her musical carrier such high-pitched patches were a few and far between, but nowadays it has engulfed her whole musical agenda. Perhaps she attributes her success to that kind of high pitched and full-throated loud voice. Naturally that has become her USP and has pitched her entire singing style on that note!
Here is a review of her music in a Sabha (read the comments too).