'Deprived dads' to rally for parenting rights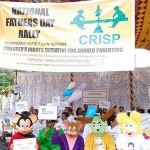 BANGALORE: Many Bangalore men who are separated from their wives but pine for their children are set to mark Father's Day (June 21st, 2009) by taking out a rally here. Kids should get the love of both parents, they stress.
Saturday's rally will see these men asserting their right to be in touch with their children.
It is the brainchild of Children's Rights Initiative For Shared Parenting (CRISP), a city-based NGO fighting for shared parenting rights, in association with Save the Indian Family Foundation (SIFF).
"Not every child is lucky enough to have the love and care of both father and mother, even when both the parents are alive during their growing up days. Due to a rise in divorce cases in the country, most children of separated parents are deprived of both their parents' affection," Kumar Jahgirdar, president of CRISP, said.
"On the occasion of Father's Day, CRISP members will have a rally in the morning — near Mahatma Gandhi statue at MG Road — to create awareness on the importance of the father in the life of a child," added Kumar.
He himself has been battling for the custody of his daughter for almost a decade.
Formed in May 2008 in Bangalore, CRISP today has 1,000 members across the country. On Saturday, around 500 members of CRISP are likely to take part in the rally.
Explaining on CRISP's work, the president said, the organisation has fathers, mothers and grandparents as its members.
"I want to clarify one thing. The members are not only fathers who are fighting for the rights of their children's custody. We have both fathers, mothers and grandparents, who are fighting for justice and equality in child custody laws of our country and who believe in shared parenting when the parents are either separated or divorced," said Kumar.
"The idea of our organisation is to give every child their right to be raised equally by both parents, to get an equal amount of love and affection from both parents," he said.
According to the figures available with CRISP, around 13,000 cases of divorce are pending in various family courts in Bangalore.
"In the process of parents getting divorced, it is ultimately the children who suffer the most. Thus we want equal rights for both the parents over their children," said Lokesh Reddy, a member of CRISP.
"We want a change in Indian family law which in most cases is tilted towards the mother when it comes to a child's custody," he added.
According to CRISP, parents contemplating divorce should be given mandatory counselling on "shared parenting" and its benefits by a panel of experts supervised by the family courts.
"This will eliminate unnecessary child custody battles, stress to the parents and children and waste of the precious time of the courts," said Jayant, another member of CRISP.
"It is always better to have the care and love of both mother and father while growing up. I too support the concept of shared parenting. Differences between parents should not affect children in their growing up days," said Sharada Patil, a Bangalore-based teacher.
News: Times of India