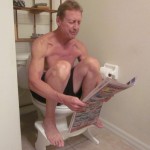 Having dealt with the subject of toilets and squatting styles for easy bowel movement in my earlier posts, I fancied myself to be eminently equipped to start a 5-star B-School-style management institution affiliated to myself, with the sole curriculum on advanced management of your potty behaviour!
Since the issues of poo-ing and potty sessions are trans-national, I am going to christen my institution as the International Institute of Potty Management (IIPM).
Disclaimer:

The similarity of the acronym with another famous institution whose name you can't miss looking at, what with its eye-catching full-page ad's running in all major newspapers in India – theIndian Institute of Planning and Management . The similarity ends with the acronym. The proposed Institute is on a subject that is so non-esoteric and commonplace as a mere wee-ing poo-ing! No competition to the famous namesake.
This disclaimer has become necessary in these turbulent times of the blogosphere since IIPM is at loggerheads with a set of bloggers for their investigative journalism on the impugned institution. You can read more about it in the blogs of Rashmi Bansal, Gaurav Sabnis, Desipundit etc.
In case if the folks at IIPM still nurture any grievance about my choice of the name, may be I'll point out to them that they are also welcome to take a degree from us and enjoy an "easeful" morning every morning, devoid of reticent bowels and itchy colons. At the end of the course, they may start singing hosannas like this:
"If there is to be a heaven on earth, it is this, it is this, it is this!"
If your poo is in fixed deposit for a prolonged period defying all your entreaties to come out of its cosy sojourn in the deep visceral crevices of abdominal innards, you may try Shammi Kapoor style coaxing, "Aha aajaa, aaha aaja, ahha aajaa………" (meaning "Oh, come on!" – from a song in the Hindi film "Teesri Manzil"). Here is the audio clipping for practical test!
But the hardy ones may not respond to such soft approaches. We may have to resort to some puranic (tantric!) and swadesi sodomic enema… (Hey, am I revealing too much for free?).
OK. That is it. You will be wised up more on our futuristic and innovative methods after you pay up the requisite fees through your bleeding nose and get our full-spread (slices of genuine brown bread) of prospectus!
Please stand by and visit here often for more!