Now, electricity from urine!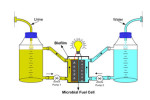 That is pee-power for you! 🙂
A paper battery that uses urine as its power source will soon be present in home testing kits for conditions such as diabetes.
Until now, such kits have required an additional power source, such as a lithium ion battery, but the new system uses the medium being tested (urine) to generate a potential difference.
Technology News reports:
Dr. Ki Bang Lee, who heads the research team at the Institute of Bioengineering and Nanotechnology in Singapore, said: "We are striving to develop cheap, disposable credit card-sized biochips for disease detection. Our battery can be easily integrated into such devices, supplying electricity upon contact with biofluids such as urine."
This is how it works:
The battery sandwiches copper, paper laced with copper chloride, and magnesium between two plastic layers. The "sandwich" is later laminated.

"When a droplet of human urine is added into the battery, the urine soaks through the paper between the magnesium and copper layers. The chemicals dissolve and react to produce the electricity," write Lee and colleagues.

In tests, the battery produced a maximum of 1.47 volts, dropping a bit with time but keeping a constant voltage of 1.04 volts for 90 minutes, write the scientists. The battery could be used in home-based health kits, they suggest.

Part of their paper describing the battery was presented in Kyoto, Japan, at the 4th International Workshop on Micro and Nanotechnology for Power Generation and Energy Conversion Applications.
The day may not be far when you'll have a spout on your mobile, iPod or a laptop for topping up your bio-fluid aka dynamo!
Further reading on this subject: